Sound System, PA, and Recording
Equipment Service
Including Digital Recorders, Mixers & Workstations
Cleaning, Maintenance, Repairs, Calibrations, and Modifications….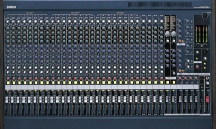 Thesis Audio Service is a Factory Authorized
Service Center For :
Yamaha
Mackie
Sunn
Biamp
Soundtech
Passport
Fender
Roland
Randall
Crate Pro Audio
Audiopro
Rocktron
Yorkville Sound
Audio Centron
Traynor
We service and Repair :
Cables, Processors, Equalizers,
Power Amps, Snakes, Crossovers,
Power Supplies, Microphones,
Compressor / Limiters, Speakers,
Wireless, Horns & Drivers, Mixers,
And More !
We offer speakers, horns, diaphragms, and parts from :
Electro-Voice, JBL, Eminence, Yamaha, Radian, Celestion, Dayton, Selenium, Pyle, and Yorkville Sound.
We offer cables, snakes, and parts from:
Switchraft, Neutrik, Ampenol, Rapco/Horizon, Belden, and Hosa.
Thesis Audio Service
316-942-7341