Vintage Synthesizer Repair & Restorations
Analog Synthesizer Repair, Service, & Restorations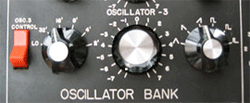 We have over 30 years of experience servicing and repairing synthesizers. We have been a factory trained and authorized service center for Moog, Sequential Circuits, Octave Plateau, Crumar, and Ensoniq. We are currently a factory service center for Roland, Yamaha, Kawai, and Korg.
We offer a wide range of services on vintage synthesizers and keyboards from basic cleaning, tuning and maintenance to full service repairs, refurbishing, and restorations. We offer free estimates and can contact you with several repair options, usually within a week of getting your instrument in the shop. We will consult with you before doing any repairs. We use factory and original parts whenever available.
We offer full key action rebuilding on all keyboards that use the Pratt-Reed type action, and most others types as well. Including new key bushings and lubrication, key alignments and spacing, and key leveling using original Pratt-Reed leveling tools. Key contact burnishing, cleaning, and replacement as needed, new key pivots, and new keys if needed.
We offer cosmetic, hardware, cabinet, wood repair and restorations.
All repairs are finished up with a complete calibration and tuning according to factory specs, done with a precision Peterson strobe tuner, and my picky ears.
We service all makes of vintage synthesizers, analog, digital hybrids, basic to modular......
We offer complete Minimoog restorations including wood / cabinet repairs, color touch ups, or complete refinishes. Replacement wheels, circuit repairs, factory upgrades ( if requested ) and tuning. Repair or replace panel controls and switches, power supply rebuilding, and even oscillator rebuilds for greatly improved stability and sonic improvement.
Restore the original playability and sound !!
We use original parts whenever possible and will do no repairs or upgrades without discussing it with you first.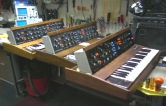 Restored Minimoogs ready for final calibration and checkout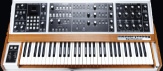 OB-1……..….to..…..Eight Voice



Sequential Circuits Synthesizers
Pro-One…….to….…Prophet 600


Sequential Circuits Synthesizers
Prophet-5…….to…..…Prophet-10




Juno 60……….to…….Jupiter 8


Octave/Plateau Synthesizers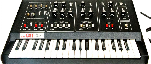 ……and many, many more !!!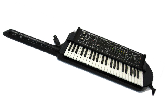 A little Thesis Audio Service history with Moog Music…

*Taurus Pedals Service and Restoration*
Click here

We can rebuild Taurus pedals from the ground up! Featuring full restoration, cleaning , voicing, and tuning.
We can replace the old key contacts with a new, custom keyswitch set for a quick, reliable key action!
We offer ARP 2600 upgrades and repairs including all of the above services plus.....Reverb unit upgrades using high quality Accutronics reverb assemblies plus audio path chip upgrades for quieter output and improved sonic performance.

*ARP 2600 Repairs and Upgrades*

" Being a vintage synthesizer player and enthusiast myself, I am very much into the repair and restoration of these instruments. With over 30 years of experience with them, I have been around most of these instruments since they were new, and I understand how they should sound and feel.
Servicing these instruments can be very challenging due to age problems and parts availability, but a properly restored and calibrated vintage synthesizer is worth every effort......."
Please call or email me with any questions,
We offer FREE estimates…..!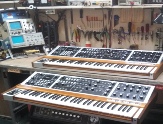 Restored Memorymoogs ready for final calibration and checkout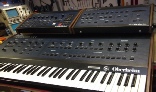 Serviced and restored
Oberheim family :
OBXa, DX, and DSX
Sequencer